Education Specialist in Higher Education (455*)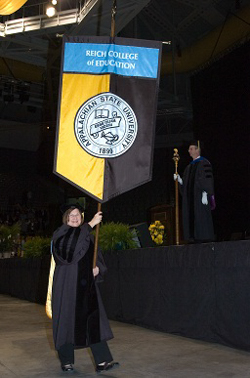 The Education Specialist (Ed.S.) degree in Higher Education requires 30 semester hours of advanced graduate work beyond the master's degree for professionals in postsecondary education. This degree is for individuals interested in advancing their careers, preparing for a doctoral program, and/or enhancing their practice.
As a mission-driven program, the App State Ed.S. program seeks to develop informed, creative, and effective upper-level leaders who integrate research, theory, and practice in innovative ways to address the complex challenges facing colleges and universities today. Our graduates administer, teach in, and lead these institutions.

Students in the program select from one of the following concentrations:
Community College & University Leadership (CCUL)
Adult & Developmental Education (ADE)
*Note: The Ed.S. in Higher Education is a non-licensure program and does not lead to NC K-12 teaching, administration, or supervision licensure.

Student Learning Goals
Upon completion of the Ed.S. program, graduates will be able to:
Access and apply relevant theory, research, and/or scholarly literature to inform professional practice in higher education.
Think critically and creatively to find legal, ethical, and innovative solutions to problems facing higher education.
Communicate in a professional and scholarly manner, expressing and supporting ideas clearly through written, oral, and visual media and employing appropriate technology.
Seek, lead, and manage meaningful change.
Navigate the impacts of globalization on higher education in the United States and internationally.
Create and manage a culturally responsive learning and work environment in which diversity is valued and supported.
Collect, organize, and interpret various types of data and evidence to inform decisions and to address accreditation and other accountability requirements at the program, division, and institutional level.

Program Requirements
30-hours of coursework (for course listings, visit the webpage for each concentration)
Admission to Candidacy to be completed by the program faculty.
Written comprehensive exam

Education Specialist to Doctorate Advantage
Through another of its graduate programs, App State offers a Doctor of Education (Ed.D.) degree in Educational Leadership. This is a terminal degree for leaders in both K-12 and postsecondary settings. In the summer of 2014, an articulation agreement was reached between the Higher Education Graduate Program and the Educational Leadership Program to allow up to 30 hours from the EDS-CCUL concentration to transfer into the doctoral program. At least 24 hours from the EDS-ADE concentration will transfer; for all 30 hours to transfer, EDS-ADE students need to include the following courses as electives:
HE 6360: Organizational Analysis in Higher Education
HE 6350: Leading Organizational Change in Higher Education

For More Information